KMART Abstract Art Activity Hack for Kids
Oct 22, 2022
I have a love affair with Kmart, is that you too? I over-heard another Mum singing Kmart's praises and saying how 'Kmart has revolutionised modern parenting'!' I have to agree - I don't know what I would do without the kids clothes, the toys, the party supplies and now all the classy, affordable homewares they stock. I didn't realise until recently the kids art and craft section is also packed with winning creative supplies without the art-store price tag - and the quality is great too.
One product that is quickly becoming popular in art lessons are 'paint pens'. These are stunning to use as drawn details over paint projects just like in our Folk Art Landscape lesson. But, the leading POSCA brand is expensive. When I saw Kmart had a paint pen version I couldn't wait to give it a try and test it out over acrylic paint and on canvas's. They are fabulous, the colour is strong, vibrant and at $9 a packet a very affordable art supply to include in your art cupboard at home or in the classroom.
Along with these paint pens, I grabbed an art canvas and a packet of pastel acrylic paints to complete two fun abstract art projects at home. For the kid who has everything I love gifting art supplies as birthday presents, this collection of three supplies would be be perfect for a Little Artist, or like me provide a few afternoons of creating for yourself.
You can find a fun Washi Tape Abstract Canvas below and another Wiggly Canvas project over here. Each of these lessons were designed for those kids who struggle with perfectionism and the 'need to get it right' . Abstract are is a stress-free, low-risk art style for kids to experiment with line, shape and colour without the pressure of it needing to look like something. They can just 'go for it!'. We loved looking at the child-like paintings of professional artist Kandinsky and Kindah Khalidy as inspiration, both these artists bring a playful, musical feel to their artworks that is so achievable for children to mimic.
Step 2. The canvas
Use washi tape to tape sections your canvas. Press your tape so it is completely stuck to your canvas, leaving sections to fill with paint. Go ahead and select your paint colours and paint your first layer. If you feel your paint is not vibrant enough, let it dry and paint a second coat. Once it is dry, remove the washi tape.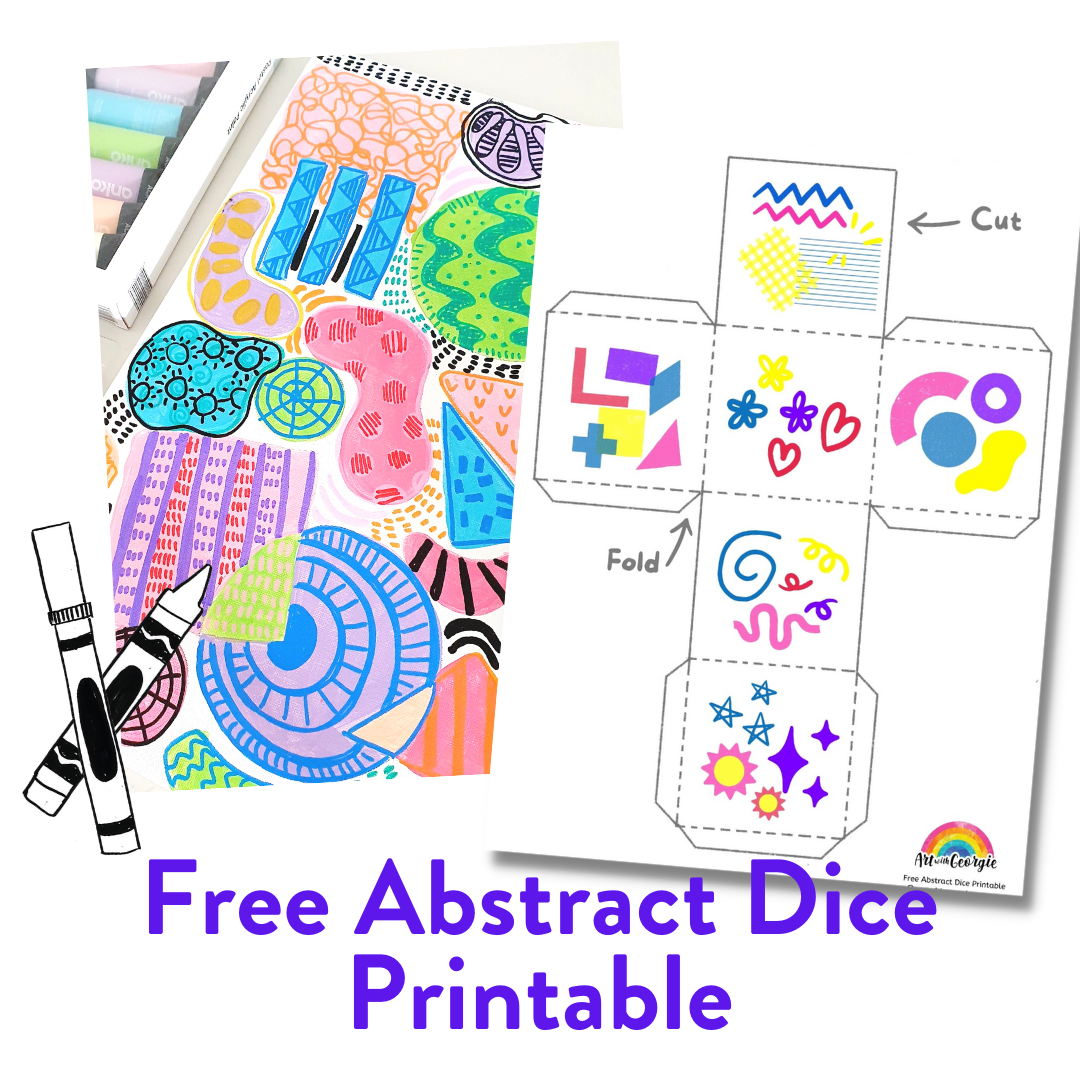 Step 4. Design
My favourite part of this project is pulling out the paint pens and adding patterns on top of your painted base. You can come up with your own patterns and shapes, or roll the dice to see what comes up. Re-look at the artworks from famous abstract artists for some pattern ideas as well. Kindah Khalidy does a fantastic job of layering colours and patterns. Do you want to include dashes, spots, stars, flowers, scales, swirls?? Or all of them!
If you are just opening a new packet of paint pens you will need to shake and then pump the nib of the pen onto paper to create a flow of ink. Before using my paint pens on my artwork I always test it out on paper first. I also store my paint pens lying horizontally in a plastic container rather than upright. This protects the nibs and flow of the ink.
Ta-da! I hope you can have a stress-free time creating this colourful, playful canvas. I would love to see your results, tag me over on instagram @art_with_georgie or email your work through to me. I always reply with a message right back to the Little Artists.
If you loved this art project then use the same supplies to create a Wiggly Abstract Canvas over here. I also have many abstract, craft projects and those using paint pens available inside my Online Art Club for Kids.
FIND THESE VIDEO ART LESSONS INSIDE THE ART CLUB …