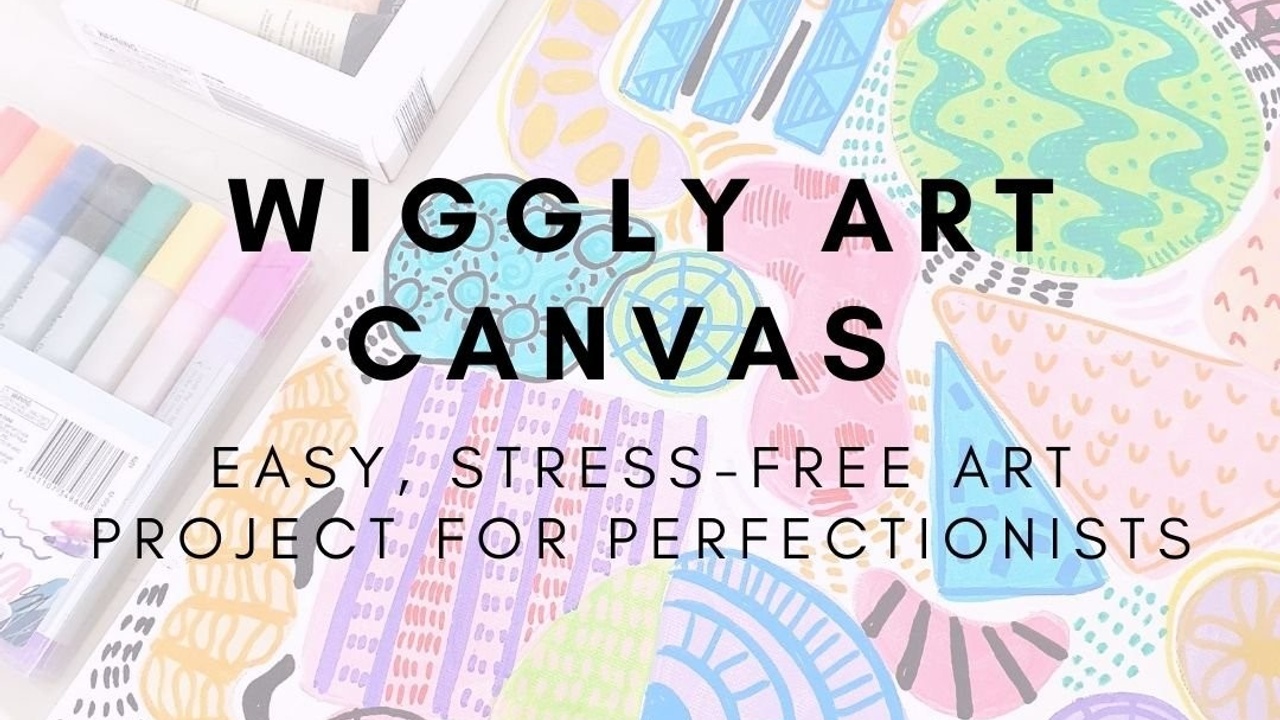 Wiggly Canvas Art Project for Perfectionists
Oct 22, 2022
The paint pens in particular are appearing more and more inside my Art Club. They are so stunning to use over the top of painted backgrounds like this Folk Art Landscape. I love using products that have great results without trying too hard, this keeps kids coming back for more.
Just like our previous Abstract Canvas lesson we took a look at the super playful paintings from modern artist Kindah Khalidy. To add to the fun, spontaneity in the lesson go ahead and download my abstract dice printable. You can use it to 'play' with the next pattern to add to your painting - just roll my abstract dice and see what it turns up! You might roll some geometric shapes, flowers, wiggly lines or stars. For children who struggle with decision fatigue or perfectionism turning their art into a game takes the pressure off and they can focus on playing with the pens the and colours instead.
WIGGLY CANVAS ART PROJECT
Art Supplies:
Kmart 12" Stretched Canvas or 12" Framed Canvas
Kmart Anko Pastel Acrylic Paint set
Kmart Anko Paint Pens
Paint Brush
Found Objects to trace such as round lids, jar, bowls, post it note pad, ruler, lego block
Water Jar & Paper Towel
Step 1. Checkout some abstract art inspo
In this project there are no rules! Little Artists can use whatever colours, patterns, shapes and details they like to create their abstract canvas. It's a great idea to look at the playful artworks of abstract artists below just to see how fun all these elements can look when they're all put together.
ABSTRACT ARTIST INSPIRATION:

KINDAH KHALIDY
Step 2. Trace some shapes
Use some found objects to trace with a pencil onto your canvas. You can use anything handy like a mug, bowl, toy block, can of beans. I found some objects to trace that gave me different sizes of circles, squares and rectangles. Then fill in the gaps with free-hand organic shapes. Make sure your canvas is FULL of a VARIETY of geometric & organic shapes in different sizes. This is a great opportunity to talk about the difference between geometric (angular, regular, symmetrical) and organic (irregular, wobbly, often found in nature) shapes.
Step 3. Paint Base Layer
I used the pastel colour palette in the KMART paints to create my base layer, it was easy because I didn't need to mix any colours and used them straight from the tube. The colours can be a little transparent, so I went over each shape with a second coat to make them more vibrant. The shapes created when two shapes overlapped were painted a different colour.
Step 3. Abstract Dice
Download and print the abstract dice template. Cut out and assemble the dice. On each side there is a abstract design suggestion to help you select your patterns. Using the dice turns this project into a fun game! For those kids that struggle with making decisions or needing to 'get it right', including the dice can help take all the guess work out of what to do next and just enjoy the process of drawing and colouring.
Step 4. Add Patterns
Once your canvas is dry it's time to add some patterns. Roll the abstract dice to see what comes up - stars, flowers, wiggly lines? Draw these pattens on top of your painted shapes with paint pens. This part of the project can double as a mindful-art session, so put on some music, take your time and don't worry too much about getting the patterns perfect!
Hot Tip: If you are just opening a new packet of paint pens you will need to shake and then pump the nib of the pen onto paper to create a flow of ink. Before using my paint pens on my artwork I always test it out on paper first. I also store my paint pens lying horizontally in a plastic container rather than upright. This protects the nibs and flow of the ink.
Step 5. Fill the gaps
One thing Kindah Khalidy does in her artworks is fill the gaps with little dashes or lines. You can do this too by find areas of white on your canvas and drawing small patterns of dashes, strokes, dots and small lines. This takes away the white space and adds another layer of detail to your artwork.
You're done! I hope you played the abstract dice game and had some fun creating this playful canvas, the step is to find a perfect place to put it on display. I would love to see your results, tag me over on instagram @art_with_georgie or email your work through to me. I always reply with a message right back to the Little Artists.
If you loved this art project then use the same supplies to create another abstract artwork just over here. I also have many abstract, craft projects and those using paint pens available inside my Online Art Club for Kids.